Furniture Cushions
Our Patio Furniture Cushions are made from solid 3″ thick foam, which is wrapped in a polyester fiberfill and covered with special outdoor grade durable fabric. They are all zippered and sewn with polyester thread and come with a 2 year guarantee.
Cleaning Instructions
1.Prepare a cleaning solution using 1 tbsp. of liquid dish detergent and 2 tbsp. of household bleach mixed in 1 gallon of water.
2.Clean fabric using sponge or soft cloth dipped in the solution.
3.Rinse thoroughly with clean water and air dry.
Avoid direct contact with oil-based products which may cause accelerated aging of the fabric. If direct contact occurs then clean promptly. Regular maintenance of your cushions will ensure an extended life of the fabric. We recommend cleaning the fabric once or twice yearly for moderate use or more frequently for heavier use.
---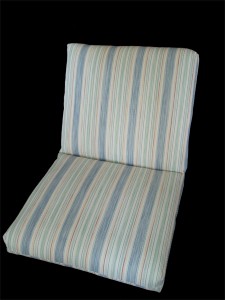 Chair Cushion
In Stock Fabric – $85.00
         20" W x 38" L-B 19         
P/N – C2038

---
Mid Hi Back Cushion
In Stock Fabric – $90.00
20" W x 43" L-B 20
P/N – C2043

---
Recliner Cushion
In Stock Fabric – $95.00
20" W x 48" L-B 20
P/N – C2048

---
Chaise Cushion
This Fabric has been discontinued  – $115.00
Reference for size and pricing only
21" W x 75" L-B 27
P/N – C2075

---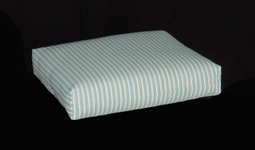 Ottoman Cushion
In Stock Fabric – $45.00
17" W x 20" L
P/N – C1720

---
A Plus Patio Furniture
B & A Fleamarket
Building H-8
2201 SE Indian Street
Stuart, Florida
772-286-3543


Map to Store Location
Local delivery only – no shipping available
See our Shipping Page for full Details
Return to HomePage from Furniture Cushions
Serving Martin County - St Lucie County – Indian River County – Palm Beach County – and Okeechobee County
Commercial & Residential | Licensed & Insured
© 2010 - 2020 A Plus Patio Furniture