Cleaning Patio Furniture
Cleaning patio furniture is a breeze when you use the right products.

Here are our cleaning tips for Patio Furniture

To Clean Pipe: Use SOFTSCRUB
To Clean Cushions: Use Soap and Water
To Clean Straps: Use Soap and Water

To Remove Mildew From Cushions, Straps and Umbrella: Use 1/3 bleach, 2/3 water – lay on edge, mist on mildewed spots – let stand 5 – 10 minutes (Do Not Scrub) Rinse Cushions thoroughly and let stand and dry for 1 day.
We also sell our Top Patio Furniture Cleaner
Casual Clean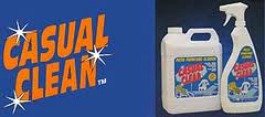 This comes in a 32 oz. bottle with easy trigger spray..$7.00
Or one gallon bottle..$26.00
Good for Resin, Vinyl Strap, Cushions, PVC and more.



To Clean Tables: Wax once every 3-5 months with table or car wax. Do Not Store Tables Upside Down. Moisture can collect in rim and cause table to swell. (Will Void guarantee)
Do not oil Glider Arms. All glider arms are pre-lubricated with bearing grease for years of maintenance free service.

Note: Discoloration of straps can occur if straps are not cleaned periodically. Straps are not guaranteed against discoloration. For best results use CASUAL CLEAN or soap and water. Clean every 2-3 months and more frequently when suntan lotions come into contact with straps.

A Plus Patio Furniture
B & A Fleamarket
Stuart Florida
772-286-3543
Map to Store Location


Monday - Friday 10:00am - 4:00pm (Eastern Standard Time)
Week-ends 8:00am - 3:00pm


PVC furniture has a 10 year warranty
Cushions have a 2 year warranty





Local delivery only – no shipping available
See our Shipping Page for full Details






Return to Homepage from Cleaning Patio Furniture





Commercial & Residential | Licensed & Insured
© 2010 A Plus Patio Furniture